3 Business Lessons Kickboxing Taught Me
Hi friends,
Every Sunday morning at 9 am, I hop on the train from Rotterdam to The Hague to go kickboxing with my brother and friends. 
While kickboxing is a great way to stay in shape, it's also extremely tactical. Especially during sparring sessions. This makes it a much greater inspiration for my business than I thought initially.
In today's newsletter, I will share the three business lessons kickboxing taught me.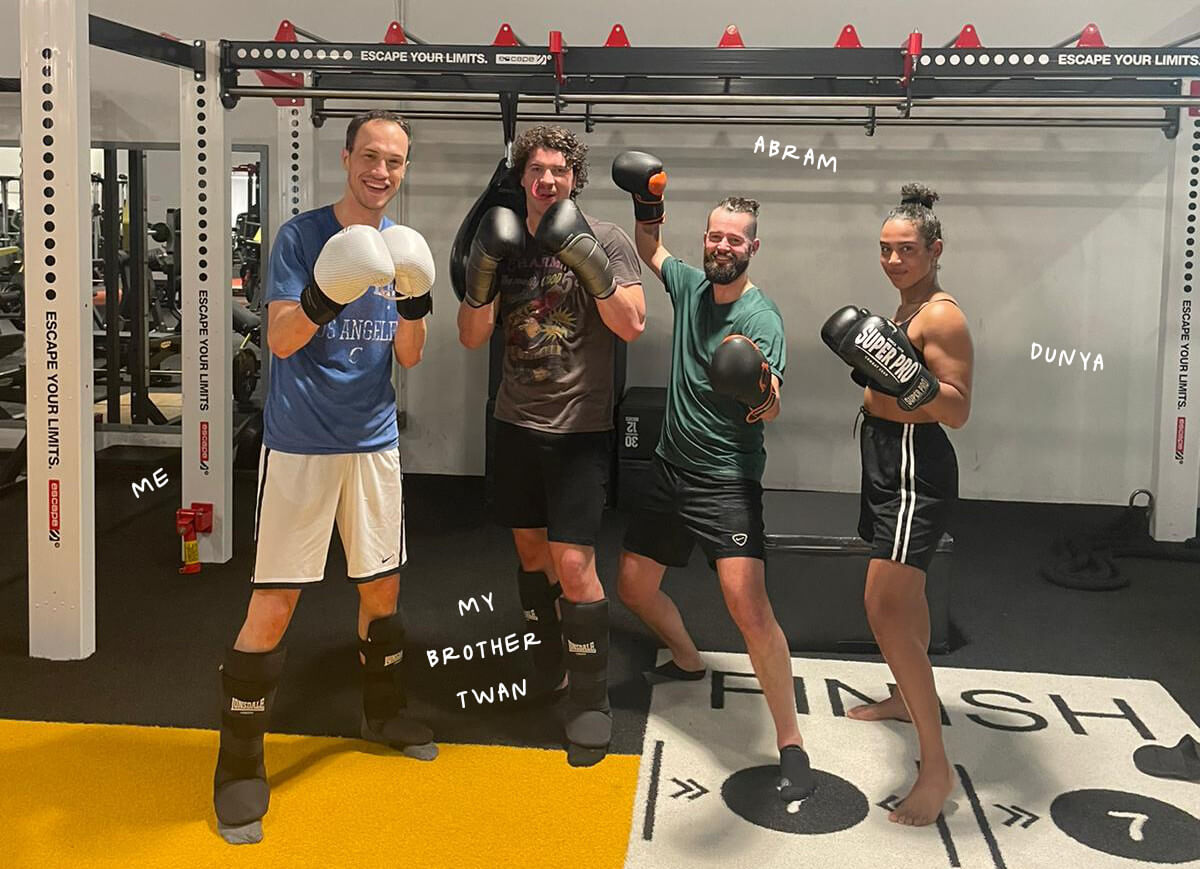 Lesson 1: Use jabs as your secret weapon 🔫
The jab is arguably the most important punch in kickboxing. While it's just a straightforward punch that hardly ever really hurts anyone, it sets up everything that does. 
When it comes to marketing your business, the same is true. 
"Jabs are the lightweight pieces of content that benefit your customers by making them laugh, snicker, ponder, play a game, feel appreciated, or escape; right hooks are calls to action that benefit your businesses." – Gary Vaynerchuk
This quote is from the book Jab, Jab, Jab, Right Hook by Gary Vaynerchuk. As you can tell by the title, the jab is the true star of the show here. 
Jabs – these lightweight pieces of content – help you set up the story of your business in people's minds. They are short and all about evoking an emotion. Once people are listening to you and what you have to say, you can occasionally step in for the knockout that actually promotes your offer.
Lesson 2: Pull your strength from a steady foundation ⚖️
The way you place your feet on the ground in kickboxing is extremely important. 
Your legs are where you pull all your strength from. Without standing steady and firm on the ground, the impact of your punches and kicks will be limited. 
What I take from this is that the foundation of your business needs to be solid. I'm not even talking about value propositions or business plans here. I'm talking about you.
You are the true foundation of your business. And when you aren't standing steady on the ground, your business will likely suffer too.
One of the most surprising sections in the book Steal Like an Artist by Austin Kleon for me was titled "Keep Your Day Job".
"A day job gives you money, a connection to the world, and a routine. Freedom from financial stress also gives you freedom in your art." – Austin Kleon
I interpret "art" here as something that you love doing, which could eventually grow into a full-time business.
Even if your financial base is solid, you should think about your routines, your health, and other cornerstones of your life that give you the feeling of stability. Because that stability is going to create the mental space to make your business flourish. 
Lesson 3: Resist the urge to hit hard 💥🥊
One of the greatest temptations during kickboxing is to hit hard. Feeling the impact of a strong punch or kick just feels amazing. 
The problem with a strong punch is that it comes at the cost of speed. That's fine if you hit, but if you miss… you're wide open for a counter attack. 
In business, I still get tempted to go all in on one thing and to make that one thing the best quality it can be – I put all my strength behind it. But in doing so, I am not using my time in the best way possible. 
As the Pareto Principle states: "80% of the effects come from 20% of the causes". 
So let's say you've worked on a project for 40 hours. According to the Pareto Principle, 80% of the value for that project was likely created in 20% of the time – in 8 hours. 
This makes it relevant to ask ourselves how we can maximise our value: which of the tasks we do are absolutely necessary and which ones could we outsource or just forget about entirely?
Are you reaaaaady to rumble? 🙌
It feels like all three lessons above are currently major themes for me to work on in my businesses. Writing today's newsletter was a nice way to put that into perspective. 
As you go into your next week, you could take some time to consider which of these lessons apply to you. When you do, it often works well for me to write down an action or focus point for next week (tip: even better, do so while listening to this). 
Your action could be as simple as reading Jab, Jab, Jab, Right Hook or actually going kickboxing to experience these lessons in practice. 
Either way, let's kick some ass next week! 
Cheers,
Marc
What I Loved this Week ❤️
📽️ TV Show – I rewatched an episode of Nathan for You this week called The Movement. It's easily my most rewatched episode of any TV show and it's pure comedic gold. And you'd actually be surprised at the amount of actual business lessons and inspiration in there. If you haven't heard of this show yet, give it a try.
🎙️Podcast – While cooking, I was listening to Ali Abdaal's Deep Dive episode with Mrwhosetheboss who's now the biggest tech YouTuber in Europe. The episode is about how to build a 10 million subscriber following and what goes into growing on YouTube. I loved the casual vibe and the great amount of actionable lessons. 
☀️ Walking in the sun – I met up with my friend Leo today, who runs his own bookkeeping and financial advisory firm. We went for a long walk in The Hague after my weekly kickboxing session. It reminded me of how great it is to be able to inspire each other with business stories while feeling the sun on your face during a walk. Loved it!
Weekly Article Award 🏆
In this section of the newsletter I share my favourite article from this week and why. I'm honestly really happy with what I put out this week, so it was a hard pick. In terms of sheer value, though, the article with my goals for 2022 was my favourite.
I struggled with writing down my goals in an inspiring way for a long time, so writing this article was a great way to reflect on what I've learned while hopefully inspiring some of you to write down better and more inspiring goals. You don't have to wait until 2023 by the way – I rewrite my goals all the time.