How I Found my Co-Founders without Actually Looking
"How is it going with your business?" 
In the 7 years that I've been involved in different communities of entrepreneurs, I've heard a few responses to this question a lot more than others. 
One of them being: "I'm looking for a co-founder."
Personally, I don't believe that 'looking' is always your best option. I mean, can you imagine the amount of businesses that were never even started, because the person with the original idea couldn't find a co-founder? That number must be insanely high.
Don't get me wrong. I understand why businesses need co-founders or teams. One person may have certain skills and interests, but businesses often need people with different skills and interests to succeed. So yeah, I get it. You might actually need a co-founder.
Or not. At least not right away 🤷‍♂️
In this article, I will share how I found my co-founders, founding partners and early team members without actually looking for them.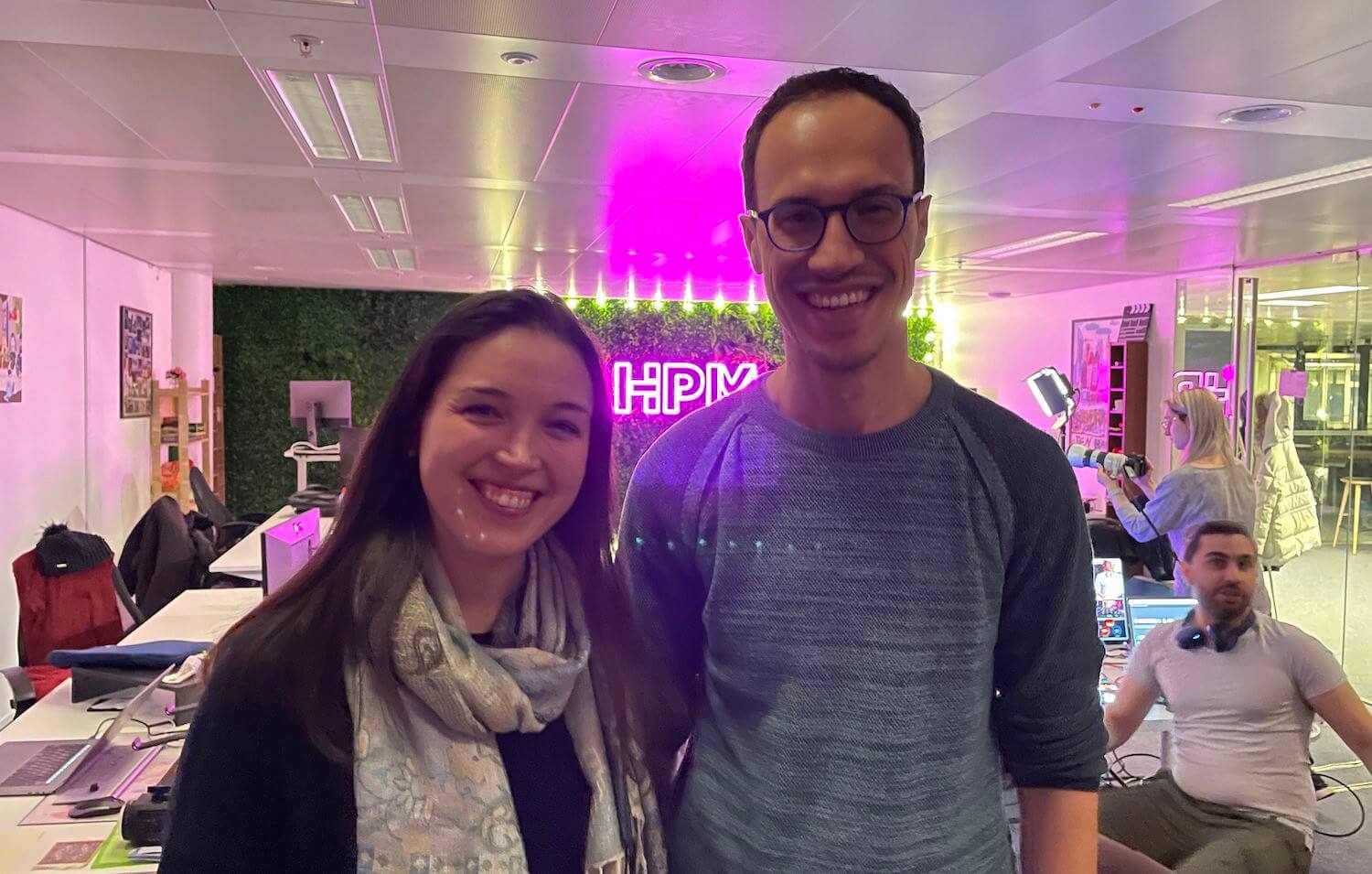 Personal referrals 🤜🤛
Meet Tatiana. A Russian portrait photographer and brand builder who moved to The Netherlands together with her Dutch husband not too long ago. 
Tatiana has become my right hand for all things related to KREW – you could call her a founding partner. We have online meetings every week and at least once a month we work together in a physical space to accelerate the growth of KREW. The picture above was actually taken only a few hours ago, just after our monthly co-working day.
When I first met Tatiana – about 1 year after starting KREW – she had just moved to The Netherlands. She was looking for a community to socialise, learn and feel more at home. Because she's a creative entrepreneur herself, one of my friends (Ines) told her to send me a message.
We met, talked for over an hour and she joined the community. Six months later it became clear that Tatiana wanted to do more to help build KREW. She started out with some simple tasks for the events and eventually made it our core team.
If I wouldn't have started organising events for entrepreneurs myself, I would've likely never met Tatiana. Sure, the events weren't as good as they are now with Tatiana. But she could see what I was trying to do. It built momentum.
Now, after having organised 6 events together, the growth curve in terms of quality improvement has been insane. 
And all of that was possible because I had already been bringing together entrepreneurs in and around The Hague for 1 year. Because they knew about me and what I was trying to do, they could connect Tatiana to me and the rest is history.
Believe it or not, but I actually found my one and only true co-founder so far, because he saw one of my videos on LinkedIn. 
Meet Niels. A neuroscientist, trainer and group facilitator. 
The first time I met Niels was at the airport of Chiang Mai in Thailand, back in 2018. We had spoken via phone and video calls a lot in the weeks leading up to this, but we had never actually met up for real. That's because I was travelling around in southeast Asia as a digital nomad at the time and Niels was back in The Netherlands.
What's even crazier is that Niels was a total stranger to me before any of those calls. The only reason he was able to find me is because I was sharing videos of what I was doing, like this one. 
Niels felt compelled to send me a message. We spoke. We clicked. And a month later, we met up in Thailand to work like crazy and start Ninjafy. 
So consistently posting on LinkedIn or any other social media channel you like can attract the right people, without you even having to try… or ask.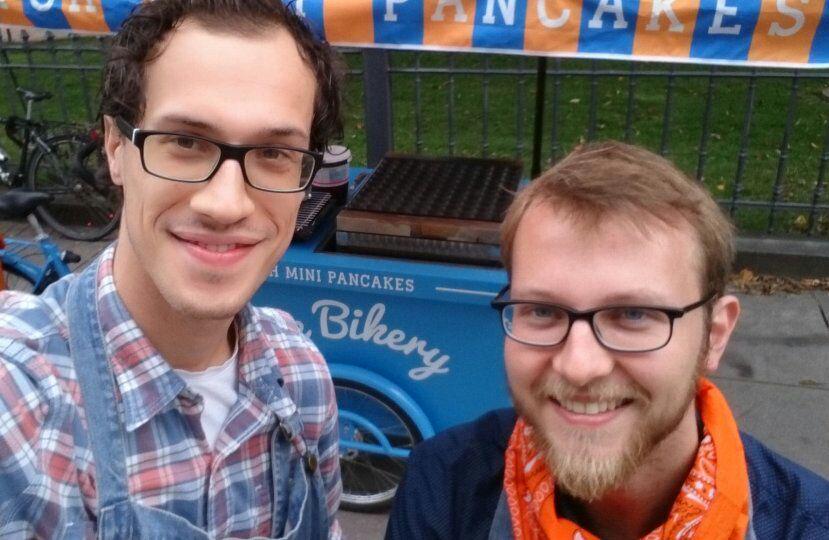 Standing out 💥
All the way back in 2015, when I was starting my first business in Sweden as a pancake baker in Sweden, I met my first team member simply because he saw me. 
Meet Ruben. A fellow Dutch guy, who moved to Gothenburg for his studies.
He was a student at the time and wanted to make some extra money, while he could learn about running a business and have fun at the same time.
He found me, because he was sitting at a café and I was biking past him with my roof out. When I was on my way to the 'sales spot', I always biked with my roof out on purpose. I felt like it would be good marketing, because it stands out. 
I mean, did you see those bright blue and orange stripes with the words 'DUTCH MINI PANCAKES' on it? 🙌
Well, Ruben did. He Googled the business. Found the website I created and he sent me a message. Soon enough, he was selling pancakes next to me. 
What I learned from this is that even if you're just starting out with your business: don't be afraid to stand out! Sure, it might not be perfect yet, but the only way to grow is by learning from client feedback. So choose those bold colours or a crazy outfit. Pick a spot that people can't get around. Show yourself on social media, not just to be present, but stand out! Do what others aren't doing. 
Who knows what'll happen when you stand out and people start Googling you too.
Final thoughts 💭
Over the years I've learned to trust that the right people will find me when I've built enough momentum. It kind of comes back to this quote from The Alchemist:
"When you really want something, the whole universe conspires in helping you to achieve it".
So: if I want something enough to tell my network about it, to share stuff about it on LinkedIn, to stand out… I believe that the universe will reward me by sending the right people my way. And while that may sound a little woozy at first, it's not that strange when you think about it. 
I feel like many people – me included – fall into the trap of wanting to make something perfect before they feel comfortable enough to show it to the world. The thing is, you need to show something to the world first in order to make it "perfect". 
So get out there. Share your passions. Show your work. Let the right people find you. Not the other way around 💪💪
And sure, you can still join platforms like Antler or AngelList to find a co-founder. Sure, you can still hire interns as your first team members, which could be great – as this LinkedIn post relating to the company of some of my friends illustrates. But don't let those things be the only things you do. 
Don't be a looker. Be a doer. Then the other doers will find you.