How to Make Sure that Your Clients Pay (On Time)
Recently at a KREW meeting someone asked me: "how can I make sure that my clients pay me on time?" 🤔
This is a question that I hear from entrepreneurs often, in one form or another. Not just for getting paid on time, but for getting paid at all. Apparently, a lot of us are not getting paid by some of our clients. 
Fortunately, I never had this problem myself. But after all the horror stories from my friends, I've certainly taken actions to prevent this from happening. 
In this article, I will describe my three favourite ways to make sure that my clients pay me – and on time.
1. Invest in bookkeeping software 👩‍💻
This is honestly my biggest piece of advice. For a long time, I used to do all my bookkeeping in Google Sheets, unaware of all the advantages a software subscription could bring. 
I thought I didn't need it. 
The thing is… bookkeeping software nowadays can do a lot more than just "bookkeeping". It can actually be a great help in making your clients pay you on time. My bookkeeping software – it's called Moneybird – helps me do so in two ways.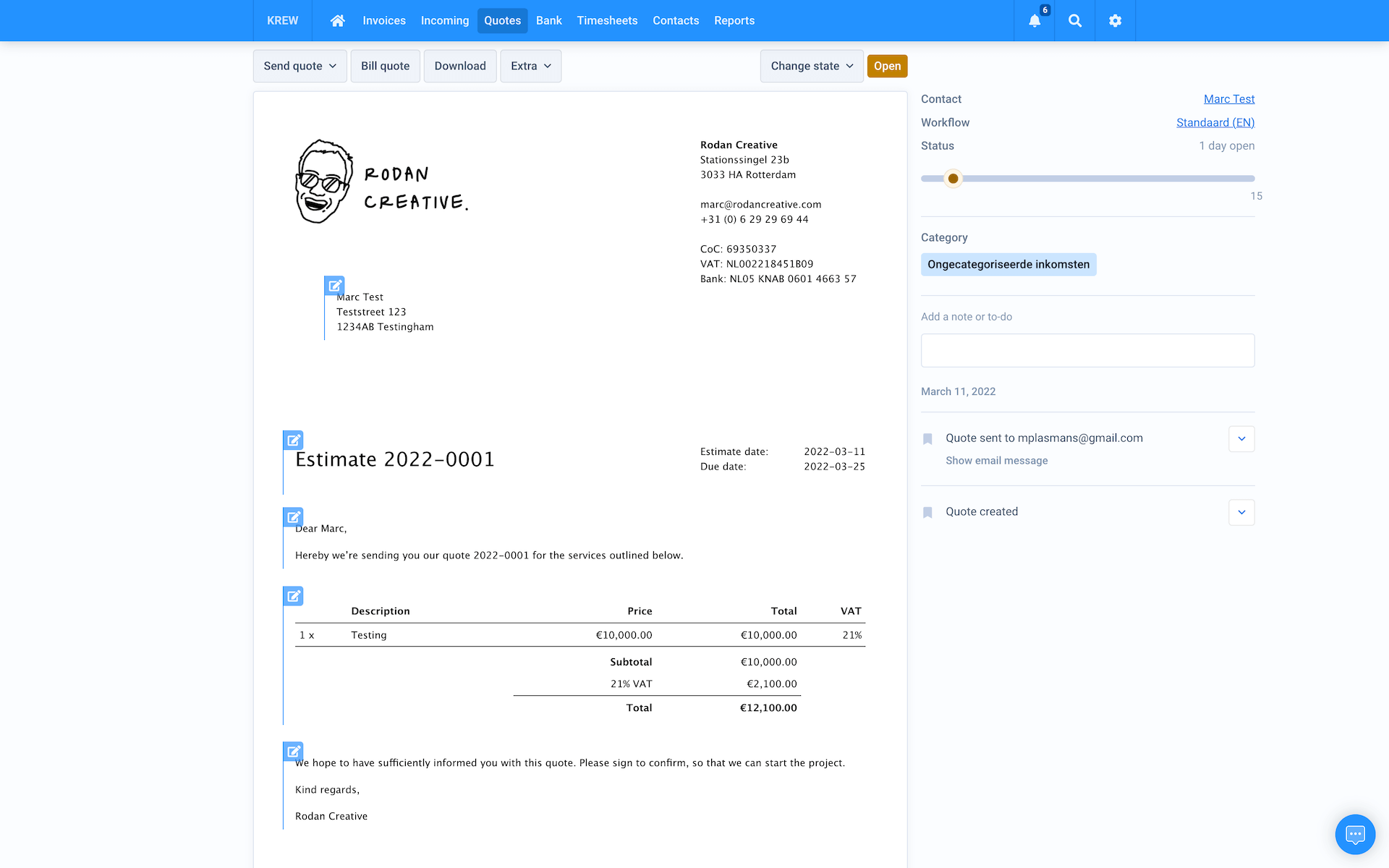 Feature #1: It allows me to send clients a quote before the project starts. 
I always tell my clients that I will start working on the project once they sign the quote with a digital signature. Not before. All of this is automatically arranged via the program. Basically all I have to do is put in the numbers and the program takes care of the rest.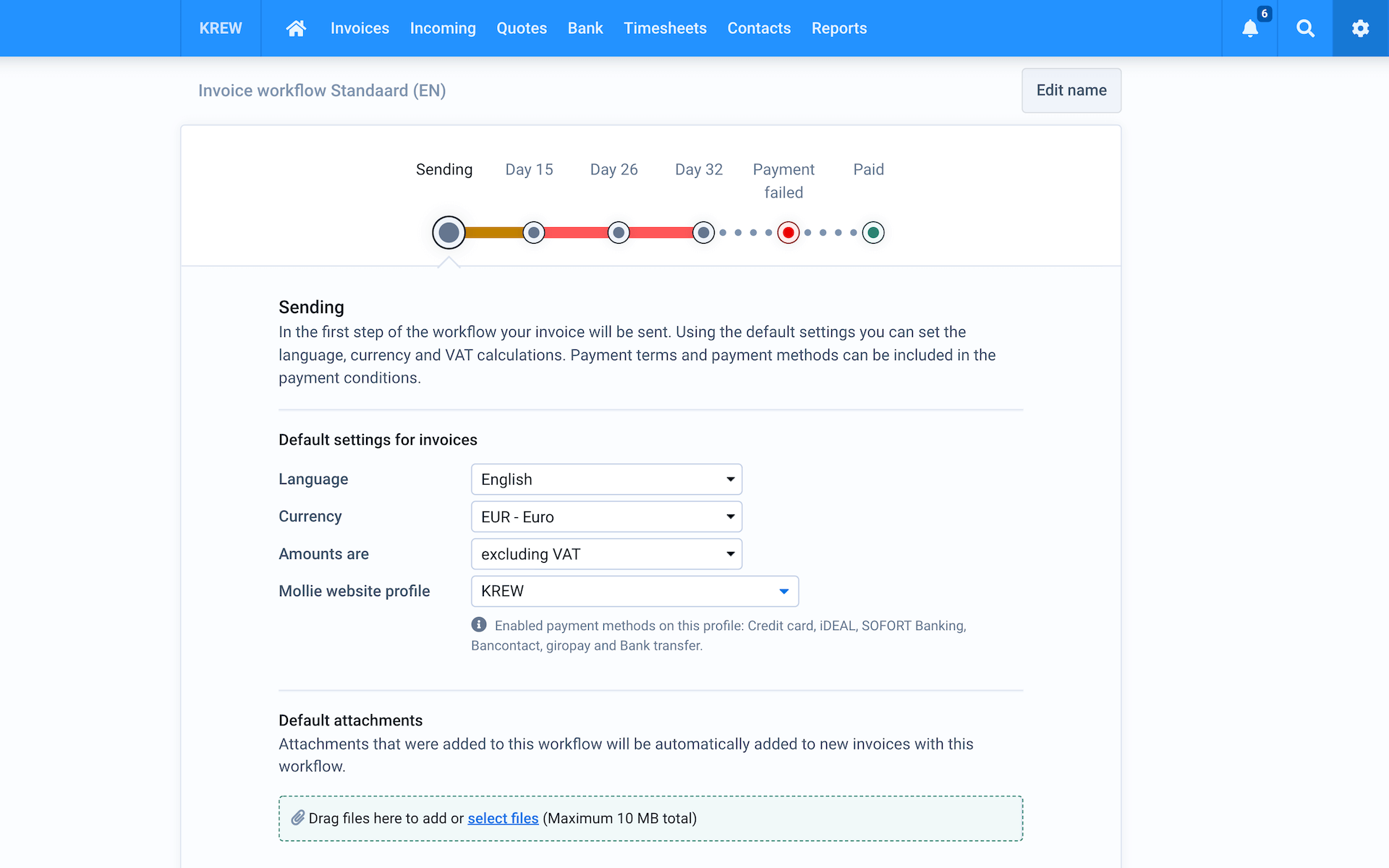 Feature #2: It sends automatic payment reminders.
Delivered the project? Great. Then you can turn the quote into an invoice in your bookkeeping software and send it to your client. 
The best thing is that my bookkeeping software sends payment reminders for me if the client doesn't pay right away. And if I want to, I can change how often and with which messages these reminders are sent. It's fully customisable. 
These two possibilities combined already make the 12 euros I pay per month for Moneybird well worth it. And then we didn't even discuss how much easier it makes my actual bookkeeping. And my quarterly tax declarations!
2. Ask for partial payment upfront 💰
For any project above 1000 euros, I'd say this is a no-brainer. 
Of course, an upfront payment helps you secure a steady cash flow in case you have other people to pay for this or other projects. But it also shows the willingness of your client to actually pay you. 
With new clients this might be a little bit harder than with returning clients, since the new ones may not fully trust you yet. To increase trust, you could share (video) testimonials, names, logos or other materials from your previous clients. At least, that's how I like to do it. 
Another way to earn trust could be to break up your project in milestones, with the first milestone coming really fast. Like, already after your first day's work. Delivering a small piece of the pie could earn you the trust you need to get the partial upfront payment. 
Just don't fall into the trap of doing anything else until the payment is confirmed ⚠️
As for how much to charge upfront, there are no rules. I usually like to stick to 30 or 50 percent of the total project, with 30 percent for larger projects and 50 percent for smaller ones. In the end it's about what you feel comfortable with. Even asking for 10 percent could be enough to feel secure that this client will actually pay you at the end.
3. Include your terms and conditions 📜🤓
Now, this is something for a worst-case scenario, but if you do a lot of project work – especially as an agency – you are going to run into problems with payments sooner or later. 
If a client wants to take legal action against you as a result, or you against them, your terms and conditions could be your saving grace. They give you a much stronger foundation than simply including the "please pay within 14 days after delivery of the project" at the bottom of your invoice. 
To create your terms and conditions I recommend finding a local lawyer who specialises in these. You could also opt for downloading a ready-made template from a website like Rocket Lawyer, which is a much cheaper option for when you're just starting out. The downside is that it may not be personalised enough for your particular situation, so your legal backbone might not be as strong as it could be. 
Once you have your terms and conditions, put them on your website and send them together with your invoice as a PDF ✉️
Make sure that your clients agree with them in writing (some bookkeeping software can help with this) and you're all set.
Of course the funny thing is that most of your clients will agree to your terms and conditions without ever reading them. 
Closing thoughts 💭
I'm sure there are many more things you can do to make sure that your clients pay you on time – and at all. But when it comes to doing project-based work, these are the three methods that I've found to be most valuable. 
Just don't forget: always be clear about your payment terms and stick to them.
Your client may not always agree, but if they don't it could be a sign that you might want to reconsider taking on the project.
Good luck and happy collaborating!