4 Steps That Made Me Start Creating Online Courses
After posting yesterday's article about the value of starting small and learning on the go, I was reminded of how I got started creating online courses.
It was actually through a small project too. A test, if you will. 
It's one of those things I look at now and feel a little bit ashamed, but back then it was actually a huge accomplishment for me. And it led to my first paid assignment as an online course creator. 
Step 1: I Got Fired 🙌  
This story starts around 5 years ago, after I had just gotten fired from my one and only "actual" job. Well, technically I wasn't fired – my contract wasn't renewed after one year – but it felt the same. 
It felt fucking great! 
I was miserable at that job. I remember every night being totally drained of energy, not capable of doing anything remotely fun. I was just done. Brain dead.
I knew something had to change. But somehow, the thought that there is still more that I can learn here combined with the guaranteed paycheck every month made me stick around. Way longer than I should have. 
For one whole year, in fact.
Hahah, I guess it's not that bad when I write it down like that. It just felt like an eternity. And it could've easily been double or triple that if my contract would've been renewed. So yes, lucky me. 
Step 2: I Read the 4-Hour Workweek 📙 
Getting fired is good fun and all, but then comes the question: "what the HECK am I going to do next?". Answering that one… not so much fun, I can tell you. Especially when you're having a massive hangover from working in a job you didn't connect with at all for one year. 
At this point, all four walls of my apartment's living room were plastered with sticky notes. What I want, what to do, where to go… you name it. It was chaos. Both in my head and in my living room. 
Luckily, I had recently gotten back into touch with a guy I met at a house party in Gothenburg, Sweden whilst living there. 
He wanted to try out the digital nomad thing, he told me. And as it was on one of my sticky notes (what wasn't), I told him: "oh, I do too!". 
For those of you who don't know what a digital nomad is, it's basically someone who can work from anywhere because they work online. Post-corona this may not sound so exotic, but believe me, in 2017 it was. And I guess the idea of working from a beach in Bali still sounds exotic to most. 
Tim Ferris popularised this idea with his book The 4-Hour Workweek.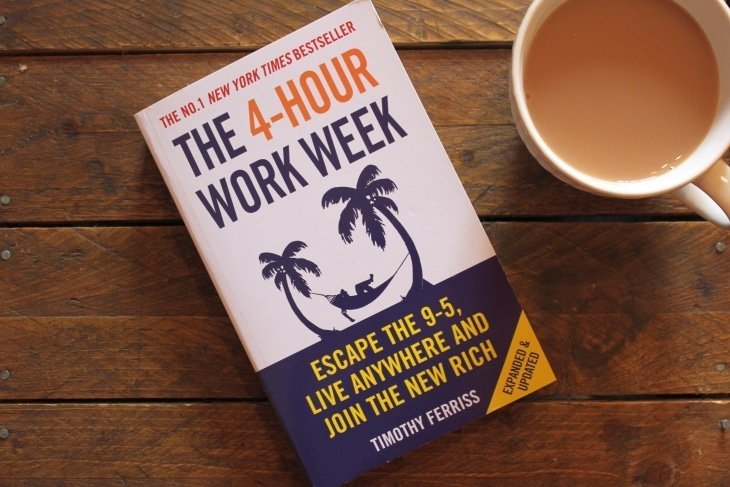 Of course, Johannes (the Swedish guy) and I had both read it and we wanted to try it for real. Over a few Facebook Messenger calls, we got each other excited enough to book a one-way ticket to Bali and that was that. 
I was going to become a digital nomad. 
Step 3: I Flew to Indonesia 🌴
I think there was about 1 month between leaving my old company and flying to Bali. I met Johannes there, who had arrived a day early. And for the next month, we would be hopping from hostel to hostel on an island, while both working to get a new business off the ground.
That's right. No pre-work and no plan other than "we want to start a business while travelling". Johannes his business and I mine. 
We were literally living the life we read about: work from the beach during the day, explore and party during the night. Super exciting, but also incredibly exhausting.
Still, having a buddy there for the first month was invaluable. I'm not sure that I would've even dared to book the ticket without Johannes. 
It was also great to fully reset. Having a new environment and new things to explore did wonders for my energy reserve. I literally couldn't wait to learn a ton of new skills and get started with my remote business. 
And the main skill I had chosen to learn was: making videos. 
Step 4: I Created My First Course Video 📸
Back in The Netherlands, while still working in the job I hated, I spoke with some of my colleagues about starting my own business. 
One of them suggested I start creating online courses. He saw a market opportunity there, even without the company I was currently working at. I'll admit, creating online courses didn't sound overly exciting to me at the time, but making money with my own content did. 
So I thought 'why not?'. Let me try and sell an online course. In the meantime, this gave me an excuse to learn how to make videos. 
I had built a few websites before, but never a video. And I really wanted to learn how to make videos, because for a long time I had dreamed of becoming a YouTuber. So in a way, creating online courses felt like a stepping stone for me to eventually do what I really wanted to do: make YouTube videos. 
So I did some research and I bought the "ultimate vlogging camera" at that time – the Canon G7X Mark II – and I installed some basic editing software on my dated laptop. If you must know, I went with Filmora, which felt beginner-friendly to me because of their ready-made templates. Also, it was something my laptop could actually handle. Barely though.
Once in Bali, I came up with the brilliant idea to build a sand tower for a fun learning experience (I actually wrote the script after filming). I convinced Johannes to join me. And that's how my first learning experience came to be.
As for the final result, here it is:
Despite its obviously poor product value, It actually took me a couple of months (!) to finish this series of videos. It was my first video project and I had absolutely no idea what I was doing. 
I also made it way too big, with the whole 'choose-your-own-adventure' thing. But… it did set a few things in motion. 
My Key Takeaways 💡
For one, this project totally taught me how to shoot and edit videos. I remember my next few videos already being so much more polished. 
Actually, this project led to my first paying customer for my e-learning business. Some people at the company I used to work for saw my video and they were impressed. Not much later, I started working on my first paid assignment from Thailand.
Yes, I kept on travelling!
The first month together in Bali had given both Johannes and me the confidence to continue travelling and working. But we went our separate ways. He flew to Japan and I continued to Singapore and soon to other parts of Southeast Asia. 
So what did creating this first project teach me in the end? That…
💡 You don't need a big idea to start a business – a small project is enough
💡 Having an (accountability) buddy can give you the push you need to actually start, like Johannes did for me
💡 When you do something you enjoy, the results you want will likely come
Were you able to take some other lessons from this story? Let me know on LinkedIn or by replying to my newsletter. I'd also be curious to see your first projects and how they compare to what you're creating now.
That's still the most fun to me: to see how far I've come in those 5 years since creating this first educational video with Johannes. 
Maybe you can take this as a cue to look back at your first project and feel a little bit ashamed… but also proud. Enjoy!