Why I'm Starting a Newsletter
Hi friends,
It's 7 am on a Sunday morning. I'm eating my oatmeal and I'm writing my very first newsletter. 
The idea of starting a newsletter of my own has been circulating in my head for years. I finally took the plunge. Why? Well, to be completely honest, because I once happened to come across this video:
In the video, London-based YouTuber Ali Abdaal summarises 3 books that changed his life. 
These books are all extremely short actually, so even if you're not an avid reader I highly recommend you to give them a go. What really surprised me, looking back now, is how much impact each of these books has made on me over the years.
📙 The 4-Hour Work Week inspired me to become a digital nomad and travel the world 5 years ago. I started looking at money and possessions differently after reading this. 
📕 Anything You Want helped me see a much more creative way of running my business, in contrast with the majority of business books out there. It's like the writer was telling me "take it easy, your way is OK". The book still helps me make decisions on a daily basis. 
📘 Show Your Work made me start this newsletter. 
Now it's not like I read all of these books in one go. There were months or even years in between watching Ali's video and reading all the books. What matters is: I did read them and I allowed them to impact my life, just as Ali allowed them to impact his. 
Show Your Work
What sets Show Your Work apart from other business books for me is a couple of things:
It feels like it's written by and for a creative entrepreneur like me. 

It's extremely practical, with clear advice and actions anyone could take.

You could literally finish the book in 30 minutes. 
The fact that it's short doesn't diminish its power though. If anything, it's a testament to the writer's ability to condense a lot of complex thoughts into something very short and concrete. I will certainly read, re-read and ponder on its content for many years to come.
But then, how did this book actually make me start this newsletter? 
I think that, in the end, it just helped me realise that I don't need to have it all figured out before I can share something that might be of value to others. 
As I'm building businesses and learning new things, there is always something that I can share from this process that might help someone someday. 
So yes, it's about helping others. I hope that this newsletter will help creative people like me to build awesome creations or business, and awesome lives. I know I've struggled. Maybe these words will help some people struggle less or even do stuff beyond their wildest imagination.
But I'm also writing this for myself. 
As much as I hate to admit it, I have many faults. When I look back, I feel like I've procrastinated on valuable things that I should have done years ago (like starting this newsletter). Or I get bored and hop from one thing to the next.
To me, this newsletter is a rock. Something to hold onto to improve my life. Something that won't change. Even when I feel like my life or my work is a mess. Every Sunday I will put it out. And every Sunday I will feel that I have learned something new that's worth telling you about.
So please, tell me what you'd like to know. Challenge me. Ask me questions. Share your own work and ideas. I'd love to get to know you better.
Enjoy your week!
Cheers,
Marc 
Weekly Creation ✍️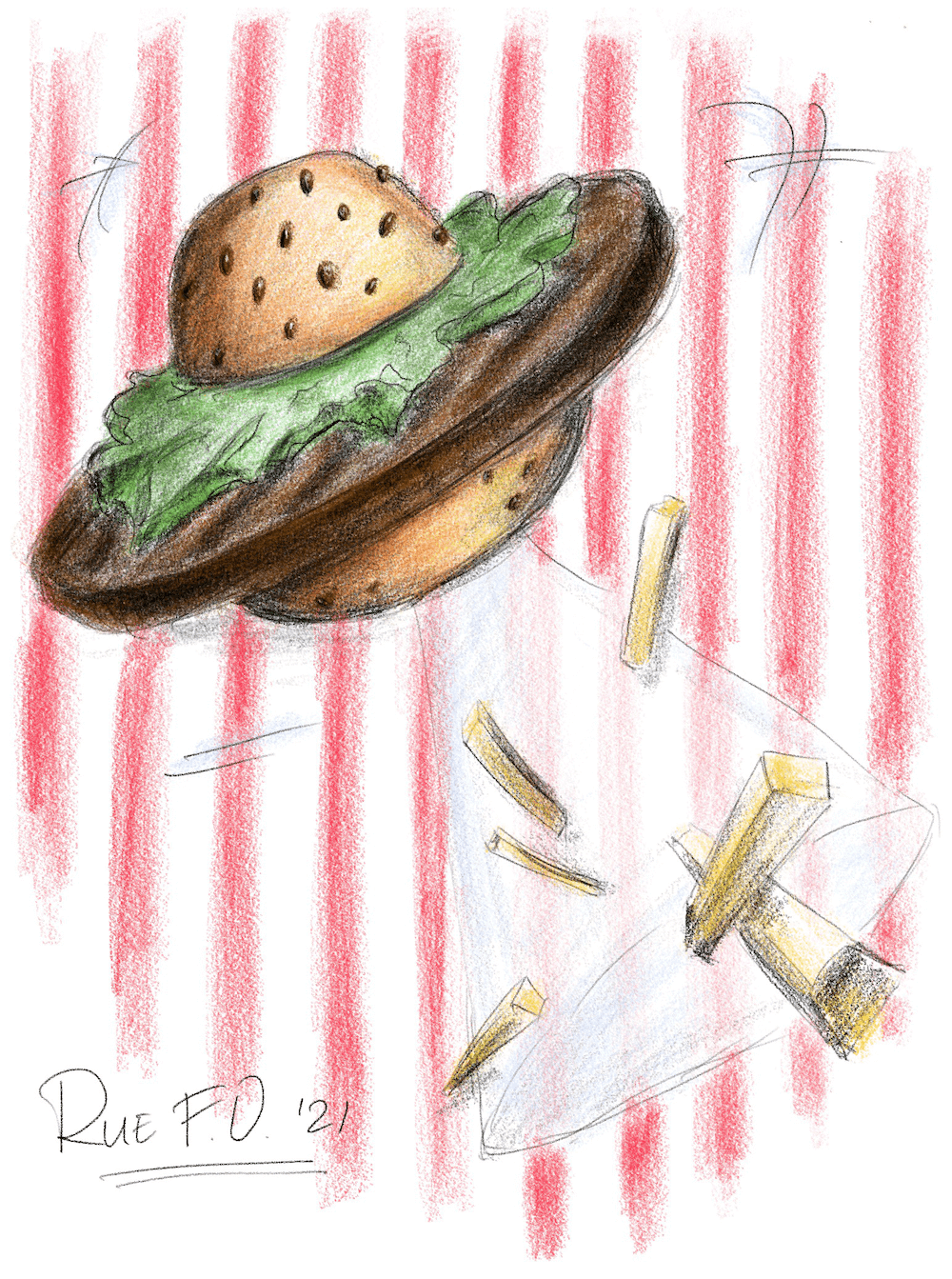 Did I tell you I have a thing for UFOs? I made this scribble a while ago on Apple Notes when I accidentally locked myself out of my house and I found myself at a friend's place with just an iPad and an Apple Pencil. I had to think about it again when I was having lunch at an American diner today.
What I Loved this Week ❤️
📽️ Movie – I finally got to see the new Spider-Man movie and boy, it did not disappoint. It instantly gave me a ton of ideas for new books and even one of the businesses I'm working on at the moment. It was great to see how it tied many storylines together in one beautiful whole.
📗 Book – Nonviolent Communication by Marshall Rosenberg. I got this book as a gift from Tatiana, one of my friends/colleagues at KREW. I'm not even halfway and it's already changing the way I approach my conversations with people. 
🤝 Outsourced work – For the first time in my life I heard myself with a French and German voice for an online course I'm about to deliver. The freelancers I found on Fiverr did such an amazing job that it brought a constant smile to my face.