Why I Started to Enjoy Doing the Dishes
Hi friends,
Today feels like a special day. This morning I took a dive in the sea (two, actually), I kickboxed on the beach, I waved goodbye to a good friend who's moving to France… and now I'm typing this newsletter in the sun with a view on the pier of Scheveningen.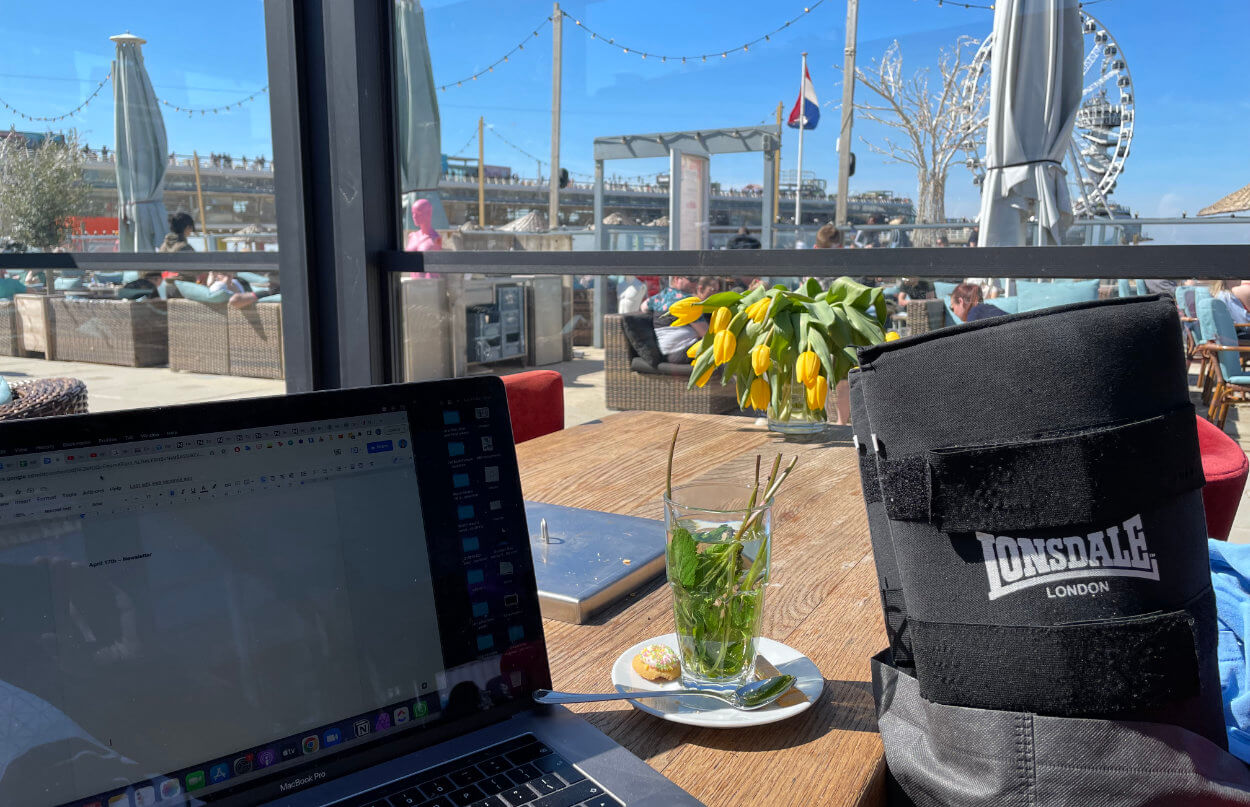 After this, I'll shut down completely and spend the rest of the day just chilling at the beach. 
Doesn't sound too bad, right? Especially after a week of nearly non-stop working. I feel like I earned this. And that mint tea! Hahah.
It's more than that though. 
Nowadays, I take care in creating moments like this. I used to believe that you should continue to work with full focus if you ever want to achieve something. That you have to spend your time productively.
I've come to learn that that's not true. In fact, overworking  – or the feeling of guilt when you're not working – likely even harms you and your business. You probably know that. I've known that. 
And still, I had to learn the importance of seemingly non-essential activities like spending a day at the beach. 
Identifying non-essential activities 🍽️ 🧽
In a Reddit Ask Me Anything in 2014, Bill Gates said that he enjoys doing the dishes. 
"I do the dishes every night – other people volunteer, but I like the way I do it." – Bill Gates
That's right. One of the richest people in the world loves doing the dishes. Every night.
I remember reading this a few years ago when I was really struggling with doing the dishes. In my mind, it represented the ultimate non-essential activity. I felt like it was just something I had to do because, well, I have to eat. 
It felt like a waste of time. Time that I'd much rather be spending on creative endeavours, or building a business.
There are a ton of seemingly useless activities like this.
🪥 Brushing your teeth
🚿 Taking a shower
🚘 Commuting to work
🍽️ Preparing meals
🌴 Taking a vacation 
Even hanging out with friends or family could feel non-essential to me. Very often.
In one way, this is good. Because for any business or creative endeavour to grow, it needs time and attention. It requires sacrifice.
In many other ways, I might've been missing out on some massive benefits.
Why non-essential activities might be essential 📈
Science suggests that Bill Gates might've been onto something when sharing that he enjoys doing something as "non-essential" as dish washing. 
Studies indicate that doing "boring" or mindless tasks like this can help with:
🙂 Reducing stress
🌈 Increasing creativity and inspiration
If you're working a lot anyway, doing the dishes can become a moment of peace. Where you feel the warm water, the soap… it's a true mindfulness activity. 
While the mindfulness aspect of non-essential activities like this is great, to me the inspiration part is even better. 
And it's true when I think about it! 
I feel like every single time when I get my best ideas, I'm doing something "non-essential" like taking a shower, doing the dishes or even having a long morning in bed.
Or… spending the day chilling at the beach.
So, when this is the case, isn't it about time that we start looking at our non-essential activities as essential?
Rewire your brain 🤯
For most of my life, I was "fortunate" enough to have a dishwasher. Though, since I moved into my new home recently, I don't. Once again, I'm doing my dishes by hand. 
And the weird thing is: I like it. 
Even typing this is extremely weird to me. It used to be the worst activity in the world to me. And now I like it.
Because it calms me after a busy day and, just maybe, I might get a great idea that I wouldn't have gotten otherwise. It's not that I expect great ideas to come to me every time, but when they do I'm very grateful. It's like a bonus on top of the benefit you always get: feeling more calm and at ease.
Of course, the only reason why it works like this for me is that I believe it does. 
There was a time when doing the dishes filled me with anger and restlessness. With guilt, even. For thinking that I was not spending my time in the best way possible. 
But again: there is merit in doing "nothing".
Heck, entire books were written on the power of doing nothing. It can allow you to go from running in the hamster wheel and exhausting yourself, to feeling happier, more in control and of course… way more creative. 
So don't underestimate the times when doing something as non-essential as doing the dishes. Learn to love them instead. Open up your mind to new creative ideas and allow the stress to flow away. I'm pretty sure that small moments like these have the power to change our lives.
What's a creative idea that you got when doing something "non-essential"? Let me know in the comments or by replying to this mail.
Enjoy your week!
With lots of love and creativity, 
Marc
What I Loved this Week ❤️
🌈 Creator – Talking about the non-essential, I've been following Matty Benedetto's Unnecessary Inventions for a while now. He has already designed and prototyped over 280 new inventions that solve problems that don't exist. The funny thing is that when you read the comments on one of his many posts, people do find his inventions necessary. No matter what you think, it's great creative inspiration nonetheless.
🥊 Kickboxing at the beach – This was my first time kickboxing at the beach. Combined with our dives in the (ice cold) sea before and after our workout, it felt amazing and incredibly energising. If you get the opportunity to do a workout like this at the beach someday soon: go for it!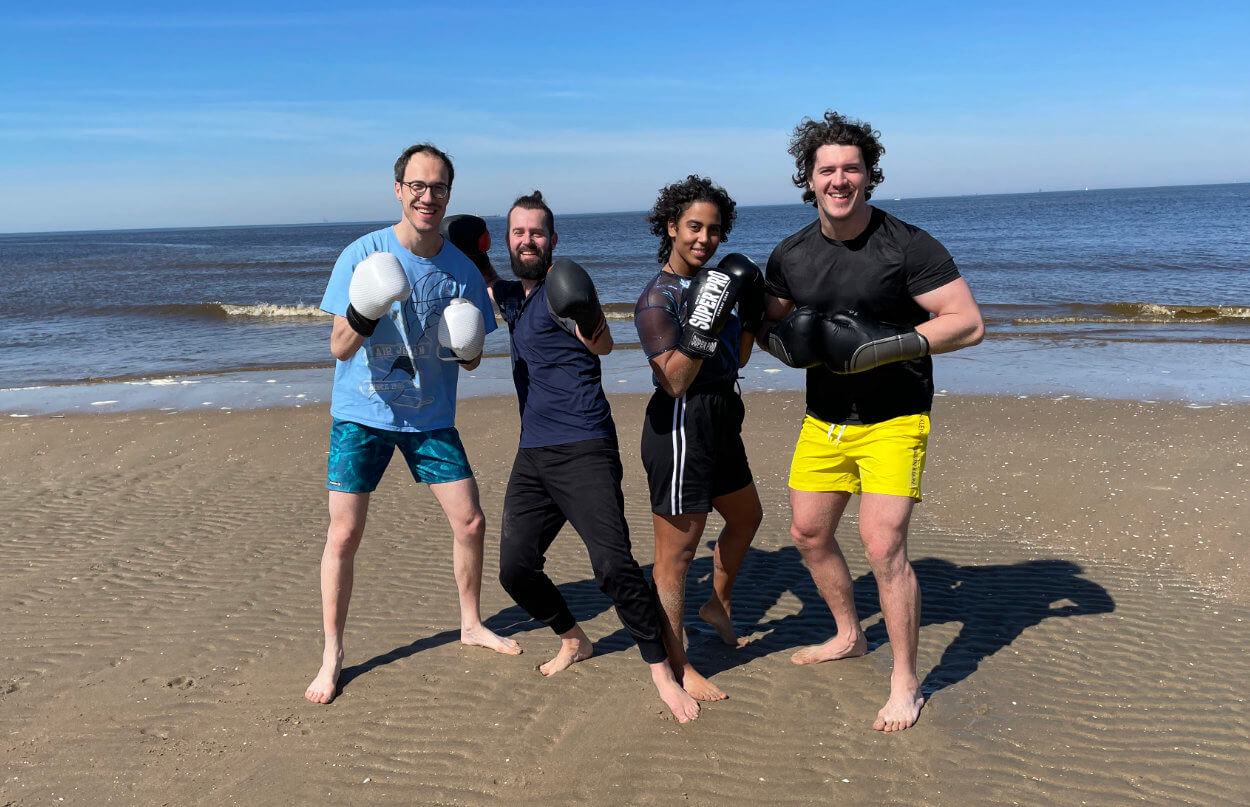 P.S. The newsletter arrived a little later than usual this week due to my huge workload currently and the Easter holidays. I'll be back on Sunday evening as per the usual schedule. See you then!