Why You Don't Need a Great Idea (Hint: Be Like a Dolphin)
Hi friends,
This week I read an interview by two founders of the Rotterdam-based startup called Breeze. In the article, Marsha Goei explained that there are two ways in which you can start a business. 
"You can either start from a really good idea or from the thought that you want to create something without knowing what. The latter is how we started. We collected a team of people around us and started exchanging ideas." – Marsha Goei, Breeze
Eventually they came up with a dating app that takes online dating offline, without having to chat with your match first. 
From idea to successful concept ✨
When the founder from Breeze settled on the initial idea, they applied the Lean Startup method by testing the idea with potential users before even building the app. 
They matched every user with their 'date' manually. When the demand became so big that they couldn't match people manually anymore, they started building the actual app. 
I love this approach, because it's much lower-risk than feeling like you have a great idea and start building it right away. 
I've always tried to apply a similar approach to every single one of my projects. Even for my very first business – the pancake bike in Sweden – I went and made "poffertjes" for people in the neighbourhood to test how people responded to the Dutch treat.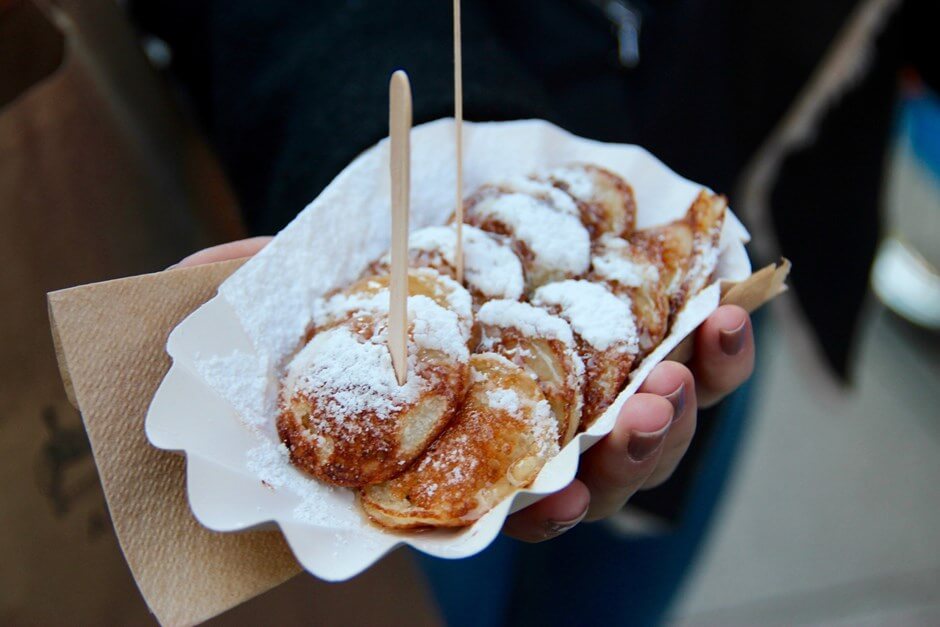 Later on, I found out that this way of thinking can also be referred to working Agile as opposed to working Waterfall. 
Are you a dolphin or a submarine? 🌊
Waterfall is when you make a plan and then execute the plan in stages. Each stage requires deliverables from the previous stage. It can look a bit like this:
⬇️ Research
⬇️ Planning
⬇️ Design
⬇️ Development
⬇️ Testing
⬇️ Implementation
The big drawback? You can't travel back up the waterfall. Hence the name.
This means that you risk working on something for a long time before you find out that it's not exactly what your customers want. That could mean anything from weeks to even years of wasted time and money. 
To stay in the water metaphors, you could compare working waterfall to being a submarine – you're in the dark as to whether your solution is in line with customer expectations for a long time. The alternative option is being more like a dolphin.
Dolphins come to the service often to check whether whatever they are building is in line with customer expectations. If it's not, they adjust. This means that they "waste" a couple of weeks time at most on their projects, while that time was probably needed to test their assumptions anyway. 
We call this the Agile way of working. 
There are many methods that can be categorised as Agile working. You may have heard of Scrum, Design Thinking or the Lean Startup method, for example. 
In all of these ways of working, people act like dolphins by running small tests rather than big and risky ones.
Implementing Agile into your own projects 🐬
There are a ton of ways in which you can be more Agile in your work and personal life. Starting a new business is an obvious one, of course. But you could also use it to find out which workout routine works best for you, or which diet, or which kind of client you like to work with best, or which skill you'd like to learn next. 
Instead of committing to something massive from the start, allow yourself to work in short cycles and gather feedback. You can gather feedback in three main ways.
🧑‍🚀 From yourself
🧑‍🤝‍🧑 From other people
📈 From data
Depending on whatever you like to test, you can determine which feedback you'd like to base your next actions on. For personal projects it's often as simple as "did I like it?", though some of my friends have installed blood sugar monitors in their arms to determine which diet and workout routine works best for them. In this case, it's hardcore data that they base their next actions on.
There's a lot to gain from simply having a 'let's test it approach', so you don't waste too much time. 
Sometimes a test is as simple as having a one-hour conversation with someone who has done whatever it is you want to do. That's feedback already!
You don't need a great idea 💡
All of us have ideas for passion projects or new businesses. Most of those ideas never see the light of day, because we think they aren't good enough. Or that they might fail.
If those thoughts cross your mind, maybe you can find some comfort in knowing that you don't have to be a submarine. You can be a dolphin instead. You can follow your curiosity, experiment and find out what works. 
It's not a complicated method or crazy-ass framework to follow. It's simply about being willing to try stuff out and find out what works. Just like the founders from Breeze.
"I think it's very important to have a feedback loop, where you're constantly thinking about what you've done and how you could be doing it better. I think that's the single best piece of advice." – Elon Musk
When was the last time you resurfaced for some air? Let me know in the comments or by replying to this mail.
Have a great week ahead!
Big hug,
Marc
What I Loved This Week ❤️
🌍 Party 4 Planet – On Friday night, my dear friends from Holland Park Media organised a hybrid event for positive impact. It was an offline and online party in one with lights, music, DJs, speakers and three rooms for the livestream. It's cool to see how far hybrid events have come since the start of COVID-19. Hats off to my friends for pulling this off.
🎨 Figma – I finally learned the basics of how to work with Figma this week, as I worked with an awesome team to deliver basically all the visuals for an e-learning project in two days. It was a fun sprint and a great, great way to start using a design tool that I'm sure I'll be using a LOT in both the near and far future.
⏰ Time – This weekend, I finally had some time again to work on my personal projects, such as KREW. Over the last month, there were too many paid projects to keep up with. So after working many late evenings, I'm glad to be getting back to a more regular schedule for workouts and passion projects. Yay!