KREW Community #2: Making our Meetings for Entrepreneurs Scalable
This article is part of the Work in Progress series, in which I discuss my current projects in their "unfinished" state. Learn from my fuckups and successes in real-time or become part of my journey by sharing your own experiences and advice. Previous entries in this series: 1.
Background 💡 
⭐ What is KREW? KREW offers unique experiences that connect entrepreneurs on a personal level to help them grow their business. Rather than exchanging business cards, we believe in building relationships that last.
🚀 Where do we want to go? To build a global community, with local KREWs in every major city around the world. 
📍 Where are we at? We are currently optimising the monthly meeting format for our first and only local KREW in The Hague, in order to get ready to scale up to multiple cities in the next phase. 
Our latest experiment: KREW Under Pressure 🌡️
For March's meeting theme we tried to choose something that allows for very different interpretations, inspired by The Art of Gathering by Priya Parker. We felt 'pressure' was a good theme, because it's something that every entrepreneur deals with but in potentially very different ways. 
Plus, it feels personal. And we like it when things get personal in KREW.
It's really too bad that I couldn't be there myself because of COVID. But going from the pictures taken by Tatiana, it was an awesome night 👇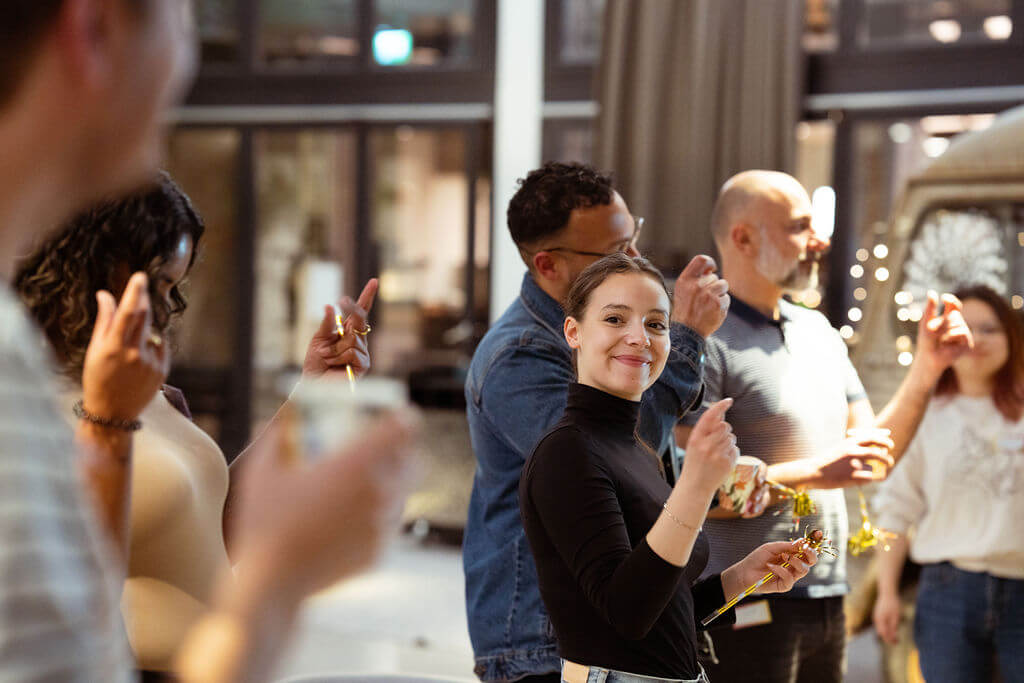 🎯Besides taking these awesome pictures, Tatiana also took over my role as the main event organiser. It's actually the first time ever a KREW meeting was organised without me being there. And that's a good thing considering the steps we're taking towards scalability of the meetings.
If anything, it shows that our meetings can work perfectly fine without me, which of course is part of our goal!
Here are our key insights after this meeting on our road towards scale.
Insight #1: We're moving from "I" to "us" 👪
One of our goals for the first quarter of 2022 was to organise 3 KREW Meetings using the same format, while only making small changes or improvements every meeting.
This would allow us to get multiple points of feedback on the format and test our major assumptions. It would also make it easier to see patterns in feedback and know what to improve. But it would also allow us to measure engagement over time. Like, is the KREW Meeting in this format something our audience wants to come back to every month?
The answer yes. But… on the condition that we'll improve it. It's simply not there yet. The value people are getting out of a KREW Meeting is not consistent or predictable enough. Yet.
But here's the thing:
💪 Because we kept consistently showing up with a monthly meeting…
💪 Because we involved a lot of members in organising and hosting the meetings…
💪 Because we clearly communicated our ambition of wanting to scale…
People are starting to get it 🙌
They are slowly moving away from a 'you organise this meeting and I attend' kind of mindset, to a 'we organise this thing together as a community, so let's find out how can we make it better' kind of mindset.
Tatiana heard people say things like: "we need to make the KREW Meetings bigger, get more people in", and "we need to encourage people to all bring one guest", and "we should collaborate to offer mentoring to members", and "I would love to start a 'fempreneur' or Carribbean KREW in Amsterdam using this format".
All different people too! And did you notice all the "we" in there?
People are starting to feel ownership of the Meeting, like they are co-organisers in a way. We still have a long road to go, but seeing this development is a great one on the road towards having self-organising KREWs around the world. 
Insight #2: We know what to change
Over the past three meetings, we started seeing patterns in the feedback we received over time. Here is what came back frequently:
"I would like to get a better sense of who is who in the room, to make collaborating or exchanging relevant experiences easier. For example, by having a round of introductions, an overview board or by making one-on-one conversations part of the program."
"Dinner at 9 or 9:30 pm feels a little too late sometimes."
"I would like to meet more experienced entrepreneurs at KREW Meetings."
"I would like to invite guests, but I'm not sure what to show them because there is no program or agenda available online."
This is great. It means we know what to change. We just don't know how to do it yet. And that's OK. 
Insight #3: We know what to keep the same
Now let's see some recurring feedback on what we don't have to change.
"I love the casual and fun vibe of the meetings."
"It's very easy to host the meeting, because the templates you made are clear and very well made."
"The program is really good. It encourages deeper conversations around relevant topics, which is inspiring and helps me to grow my business."
"I literally can't think of anything that needs to be improved."
We actually hear the final one the most. Of course, after some digging and further questioning we are sometimes able to get to something we can improve. But in most cases, this is genuinely how people feel, which is great!
What's next 🔥
Now that we are finishing up our quarter, we'll take all feedback into consideration as we plan for the next one and make some structural changes to the KREW Meetings and the way we organise them. Bigger changes this time, because we have enough data to base these decisions on now.
The focus for next quarter will be on three things:
🎯 Marketing our KREW Meetings better locally 
🎯 Formalising our meeting and organisation templates further
🎯 Starting a second KREW in Rotterdam or Amsterdam
I love working with quarterly goals by the way. It's a short enough horizon to stay practical and focused, but it's still long enough to make great progress.
If you have tips or suggestions, or if you want to help somehow with scaling KREW: reach out or leave comment below. We're doing this together after all 😉
I'll keep you posted on our progress!